Office Occupancy vs. Office Space Utilization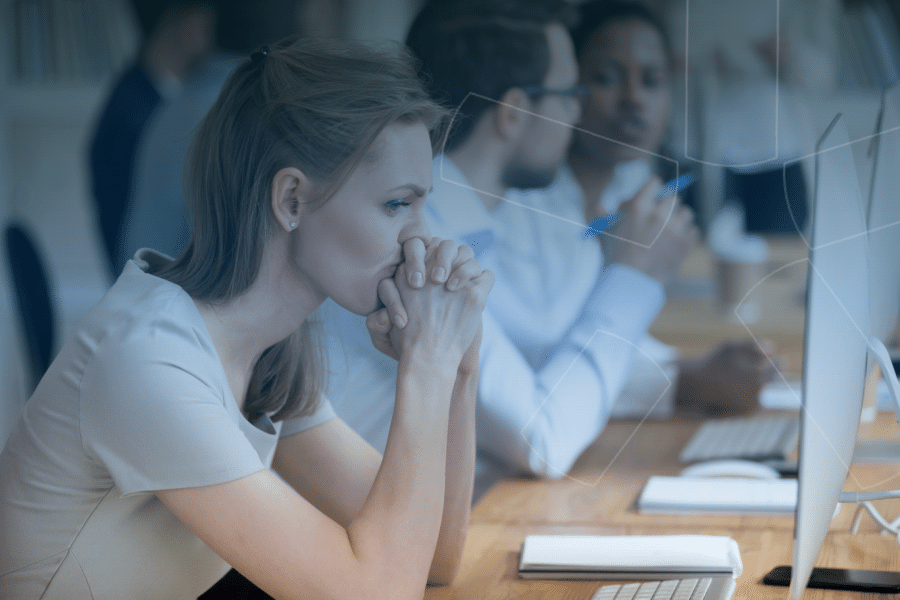 It's hit an average of 50% in major US metropolitan areas, it's reached the highest levels since the pandemic in the UK… office occupancy is making the news a lot these days.
The same isn't so true for office space utilization, office occupancy's lesser-known and more sophisticated cousin. At 24 characters, office space utilization doesn't make for the punchiest or most concise news headline. But that doesn't mean workplace leaders should ignore it.
Often, office occupancy and office space utilization are used interchangeably. This is a problem because although the concepts are linked, measuring them yields widely different data.
Why is it important to differentiate the two? Because occupancy is a lagging indicator. Workplace leaders need more data to make the right decisions, and while office occupancy is a valuable metric, it isn't everything.
Let's set the record straight.
What is office occupancy?
Office occupancy is the percentage of an office that's occupied at any given time. It's calculated by dividing the amount of occupied space by the amount of available space.
What is office space utilization?
Office space utilization is a range of metrics that measure how efficiently office spaces are being used over time.
It's calculated by dividing the number of people using a space by that space's total capacity.
Note that office space utilization measures how individual spaces are used, rather than the office overall.
What's the difference between office occupancy and office space utilization?
Office occupancy measures how many people are coming into the office. Office space utilization measures what people are doing when they come into the office and how they're doing it.
Let's look at the questions both are answering.
For office occupancy, it's – how many people are in the office?
But for office space utilization, it's – how effectively are people using the office? But wait – that's not all. It can also answer questions like:
Which types of workspaces do employees like the most?
Where can we cut costs?
Should we sublease the fourth floor next year?
Is our hybrid work policy actually working?
Is our workplace strategy actually working?
Workplace Strategy Guide: A Post-Pandemic Deep-Dive
Download this guide to find out how to create a workplace where individuals thrive, organizational performance soars, and costs stay low.
The data sources for occupancy and space utilization are also different.
Office occupancy data is typically collected from badge swipes. So while you know how many employees have entered, you don't know what they do once they get inside.
Space utilization data is collected from occupancy sensors, wifi signals, scheduling data or a combination of all three. Badge swipes aren't granular enough to measure space utilization since they can't measure how spaces within the office – like meeting rooms, workstations and lounges – are being used, or how usage fluctuates over time.
If you've implemented strict return to office mandates and want a high level overview of whether they'd had an impact, measuring office occupancy will probably suffice.
But if your goal is to create a better and more cost-effective workplace, measuring office space utilization is right for you.
The limitations of office occupancy
If you're looking for a broad indicator of your company's return-to-office velocity, particularly one that you can share with your C-Suite, office occupancy is a great metric to measure.
But it doesn't give you the full breadth of data you need to make high-value space and real estate decisions.
Here's why.
Office occupancy doesn't show what spaces employees use after that initial badge swipe. This leaves workplace leaders blind as to why employees are actually coming into the office in the first place.

Office occupancy doesn't uncover underused or overcrowded spaces. Because office occupancy can't measure how employees are interacting with spaces, underused spaces could be creating waste (unnecessary spend on utilities, carbon emissions) and overcrowded zones or floors could be creating a workplace experience that makes employees wish they never bothered with the commute.

Office occupancy doesn't help you predict what types of spaces you'll need in the future. If it's consistently trending up and nearing capacity, office occupancy is a good indicator that you'll need to invest in more office space in the future. But it can't help you predict the right office layout, configuration and design decisions for that office space – which could make any investment a sunk cost if it doesn't have the functionalities employees need.
The advantages of office space utilization
Office space utilization shows you which spaces are working and which aren't. Higher utilization in collaborative areas versus areas with individual workstations is a signal that employees are coming in to meet face-to-face, for example. But if most of your office is dedicated to individual working, it's definitely time to change up office functionality and layout.

Office space utilization uncovers opportunities to cut costs and carbon emissions. Closing off underutilized floors on specific days cuts waste on utilities and facilities management services. Over time this can really put a dent in carbon emissions. Monitoring space utilization in real-time on a granular level is the only way to ensure any cost cutting decisions you make aren't impacting employee workplace experience.

Office space utilization uncovers opportunities to improve employee workplace experience. Even if office occupancy is objectively high on any given day, pockets of the office could either be ghost towns or packed to the brim – neither of which result in happy employees. Space utilization helps you spot these pockets, so you can make the right decisions to rectify them. Consolidating spaces or changing hybrid work policies could be a good call here.

Office space utilization helps you predict the amounts and types of spaces you'll need in the future. Will it be time to let go of a floor or put a building up for subleasing within the next year? Will your new office building need 70% collaboration spaces vs 30% individual workspaces? Space utilization data more than likely has the answers. Relying solely on occupancy data without digging deeper could result in rash up or downsizing decisions.
What space utilization metrics should you be measuring?
Start with space utilization rate and peak utilization rate, getting as granular as you can by honing in on floors, zones, neighborhoods, lounges and even meeting rooms.
Scatter some magical analysis dust on your data to start exploring weekly patterns, long term trends, and predicted utilization rate.
Measure these 5 space utilization metrics to cut costs, improve employee experience and plan for the future.
Pro-tip: space utilization software like Hubstar measures and analyzes these metrics for you, giving you time to focus on making the most impactful workplace experience decisions.
Hubstar helps you build a better and more cost effective workplace.
Hubstar Space Utilization collects and analyses data from occupancy sensors, wifi signals, desk and meeting room booking and even badge swipes, all in real time. You get a single source of truth with all the information you need to cut costs, reduce carbon emissions and create a workplace experience that's worth the commute.
Create a workplace people love
Book a demo to learn how Hubstar can help you:
Book a call with a member of our team to discover how HubStar can accelerate your workplace strategy. Whether your goal is to deliver a world class employee experience, reduce real estate costs or take an experimental approach to optimizing your office, we're here to help.
Optimize occupancy
Improve workplace experience
Boost collaboration and connection
REQUEST A DEMO