Collaboration in a Hybrid Workplace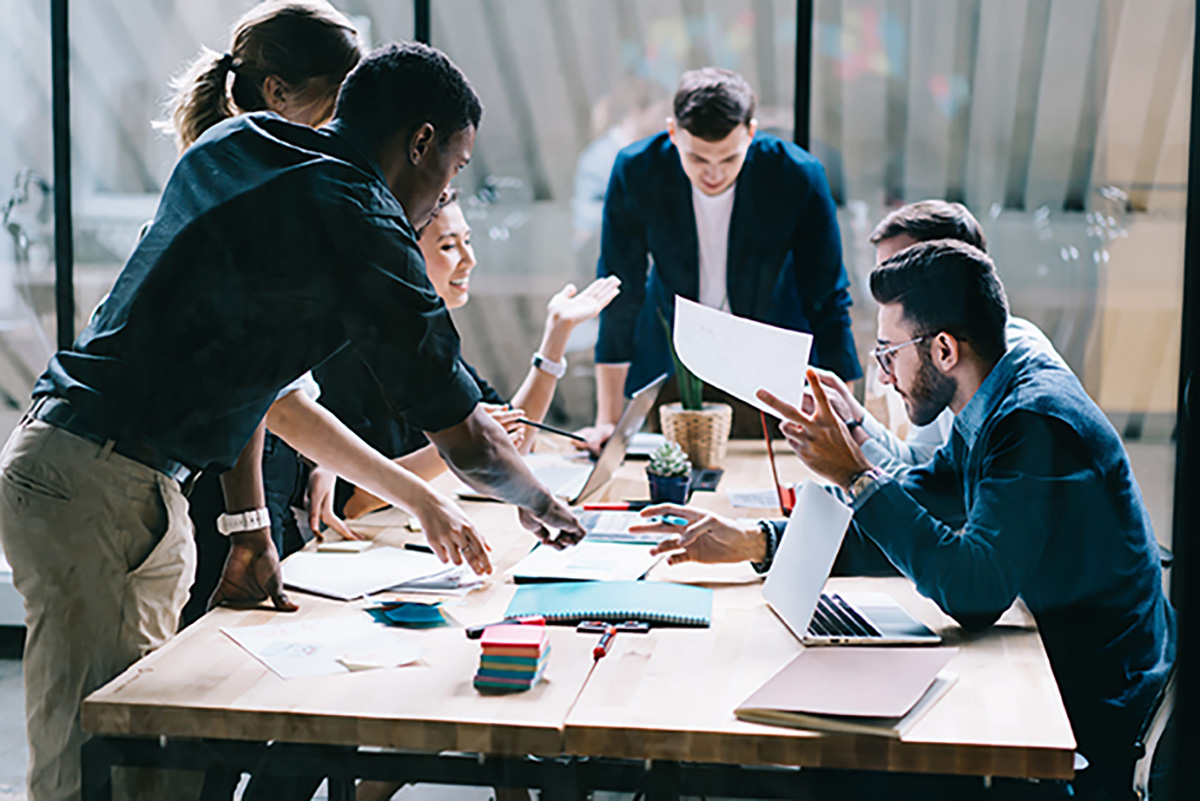 As companies plan for and determine what their "new normal" workplace will entail in a post-pandemic environment, a hybrid modality has emerged as a front-runner for many corporations. One critical element that makes up this style of work is collaboration. While collaboration can happen both in-person and remotely, there are specific ways you can do to help facilitate, encourage and maximize a collaborative atmosphere in your workplace. This, which begs the question: how do you foster collaboration for your workers? Read on as we tackle the critical subject of collaboration, which is becoming increasingly important to keep employees connected as companies transition away from the pre-pandemic traditional model of entirely in-person work.
Pandemic Changes
When COVID-19 was first declared a pandemic and seemingly overnight companies transitioned to entirely remote work, the loss of opportunities for in-person collaboration that were a built-in function of working an office had many worried. In fact, fears about declining collaboration were well-noted in a lot of research and reporting that was conducted at the time.
An article written by freelance writer Kate Rockwell in November of 2021 for the Society for Human Resource Management entitled, "How to Collaborate with a Hybrid Workforce," addressed the topic of replicating in-person collaboration in a remote environment. Additionally, Rockwell's piece highlighted the fact that even as companies began returning to the office after working remotely, uncertainty still existed over the best ways to maintain a collaborative approach in a changing environment where the days of exclusively in-person work were likely over
Rockwell writes in part, "Many employers have cited lost company culture and reduced collaboration as reasons for wanting employees back in the office at least part of the time. Slightly more than 70 percent of HR professionals said they were more concerned about employee collaboration this year than they were before the pandemic began, according to the results of the Gartner 2021 Hybrid Work Employee Survey."
Collaboration as a Priority
Collaboration Equity: What is it?
Collaboration equity is becoming increasingly important in the current environment when employees are no longer in the same place at the same time. What is collaboration equity? To answer that question we will highlight a recent Forbes article written by Prasad Setty, a Brand Contributor for Google Cloud, who answers that question perfectly.
Setty writes, "Collaboration equity is when all workers have the ability to contribute and communicate equally, regardless of location, role, experience level, language, or device preference. A lack of collaboration equity can stem from hierarchies in video calls or language barriers on international calls. It can mean junior employees feel disempowered to speak up in meetings, off-site employees struggle to access their on-site managers, or frontline workers lack the communication tools their office colleagues enjoy."
Setty goes on to say "Hybrid models demand deeper thinking about social, organizational, and technological challenges. These ideas should be addressed at the C-Suite level with solutions that garner buy-in from every part of the organization."
Looking Beyond the Individual
One way to successfully implement a collaborative atmosphere at a company with a hybrid modality is to have teams arrange their schedules in a manner that ensures they are all working at the same time. A great example of this method is happening at Microsoft.
A Harvard Business Review article written by Microsoft Chief Scientist Jaime Teevan looks at extensive research done by Microsoft on productivity and hybrid work.
Teevan writes in part, "At Microsoft, we're asking each team to create a set of team norms that define how they'd like to work together in our hybrid workplace. Individuals can share how they work best. Teams can establish meeting-free days or plan regular in-person team meetings. To avoid one person's flexible working hours becoming another person's after-hours messaging, managers can set norms around the times of day responses are expected."
Teevan continues on to say, "Under the old definition of productivity, coordinating team collaboration around individual work styles and thinking hard about whether your team should change its meeting practices might have seemed unnecessary, high maintenance, or even awkward. With the new definition of productivity in mind, these activities are essential."
Scheduling
When it comes to the subject of schedules and coordinating teams, workplace scheduling can make all the difference between success and failure.
At Smartway2, our software can help you to seamlessly organize and manage your workforce, whether you are operating in-person, hybrid or remote. For example, our software can help ensure adequate staffing and avoid a situation where all employees are remote on the same day so the office is completely empty, or prevent every employee from coming into the office on the same day so there is not enough space or resources for everyone to work. Similarly, our software will enable you to schedule a specific room for the scenario where a certain team of people is needed in-person at the same time so that space is reserved. Our software is able to schedule your businesses unique and individual needs. We can take the stress out of returning to the office by making sure that people have the necessary space and resources to meet and complete their work when they do come into the office. This is especially critical for businesses that have switched over to a hot-desking system.
Best Use of Space