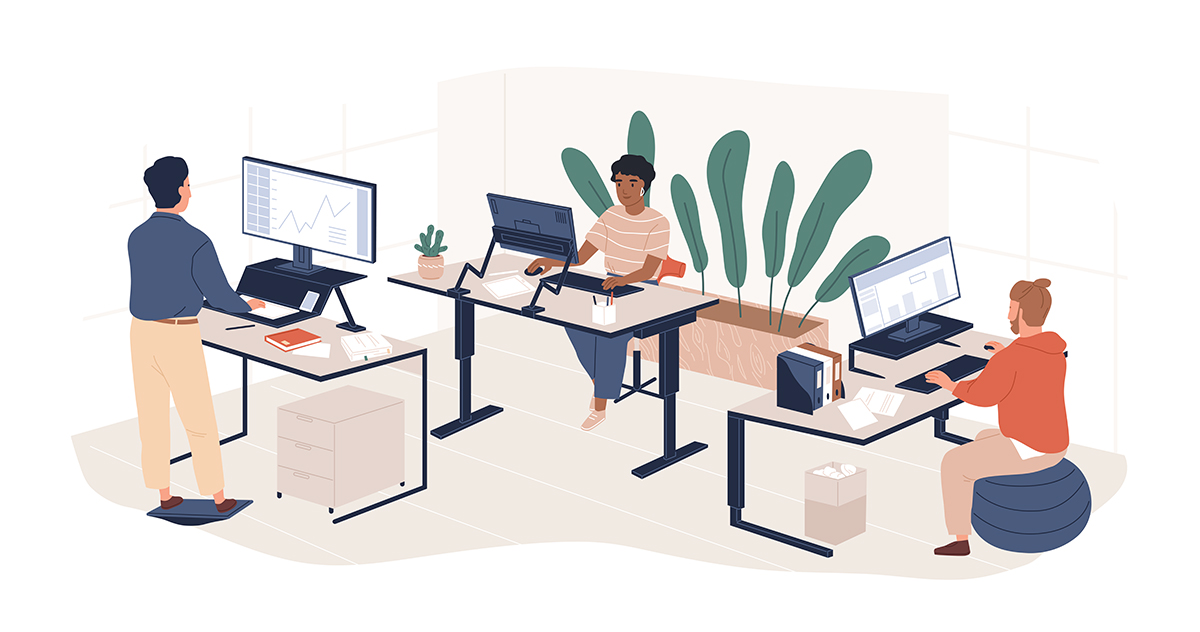 How Can Workplace Analytics Help Office Design?
HubStar
, Posted June 20, 2022
As companies return – or plan for the return – to the office following a prolonged period of remote work, it is unlikely that operations will revert to the pre-pandemic traditional model. For many companies, this has meant adopting a hybrid modality where employees split their time between home and the office. As a result, companies are rethinking their physical space to adapt to a new setting where employees are no longer in the office Monday through Friday for eight hours a day.
Deciding how to set up your office is a major undertaking with ramifications beyond just the way your office looks. Not only does design affect the atmosphere and appearance of your workplace, but the choices you make can also have an impact on productivity and employee experience. So, this begs the question; how can workplace analytics help you to design your office? The answer, by telling you more about where employees work and how they are utilizing space.
Data from Workplace Analytics
Let's start by explaining what you can learn from workplace analytics. Data provided by measuring workplace analytics will present a clearer picture to answer questions of why and how to undertake an office design.
Workplace analytics, by definition, keep track of what is happening in your office. Workplace analytics can be gathered in varying degrees of precision depending on how they are collected. The data is primarily taken in through three main sources: wifi-networks, sensors and scheduling systems.
This data is then aggregated into insights that present areas of utilization within the office, measuring key metrics such as occupancy v capacity, population volumes and with a comprehensive workplace analytics solution, down at building, floor, and room level.
Office Design
So, how can workplace analytics help with office design?
Once you gather data as to where people are doing their work, what spaces they are using and by further investigation with employees, what kind of work is being done, you can then make a data-driven decision about what kind of space best suits your office needs for the future.
This could mean eliminating individual offices that go unused for days or weeks at a time in favor of creating more conference room space that better meets the demands of your workforce for collaboration. Or you could choose to build in more flexible working or activity based working areas after realizing that your employees are most have a need to simply touch down in creative spaces or need more space for concentration work.
The beauty of workplace analytics is that they will allow you to customize your space to increase employee productivity.
Restructuring Hybrid Work
Many companies are making changes, downsizing, or restructuring their office to accommodate the new way that employees work.
Data from workplace analytics can be a major resource to ensure you are making decisions based on data and trends that are specific to your company.
A piece published by Work Design Magazine on this subject written by Chris Baudler and Elizabeth Baudler entitled, "The Role of Workplace Analytics In Finding The Real Value Of The Office." Highlights key questions.
According to Chris and Elizabeth, "With the help of workplace analytics, it is now possible to understand which aspects of the office contribute to goal achievement, collaboration and innovation, and which aspects are merely relics of the past. For example, "Is the break area or ubiquitous "water cooler" helping drive employee productivity, cross functional collaboration, knowledge sharing and social cohesion, or is it simply an area employees pass through to grab a quick refreshment?"
The article continues to ask these 3 questions which you likely will want to answer for yourself as you consider measuring workplace analytics:
In the future, how will EMPLOYEES utilize the workplace?
How does LEADERSHIP want employees to utilize the space?
How will the new workplace affect COLLABORATION?
HubStar and Smartway2
Hubstar offers a unique product that can help with everything we've discussed in this post when it comes to workplace analytics.
Our software will provide you with critical data points on actual real estate utilization and occupancy levels for informed decisions on portfolio resizing and cost reductions. In addition, our technology will let you see how employees are using office space and workspace scheduling to deliver an office design built around them and drive successful hybrid working. Lastly, our software will let you measure your return to office strategy.
Additionally, with Smartway2, you'll have access to a state-of-the-art workplace scheduling system. This software will improve employee experience, supercharge collaboration, and increase productivity by allowing you and your employees to schedule desks, conference rooms and everything in between. Our workplace analytics and workplace scheduling systems go together to give you a comprehensive overview of what is happening in your office. And, when it comes to design, giving you the information you need to make changes to fully utilize your space to its fullest potential.