How to Build a Better Campus with University Space Utilization Data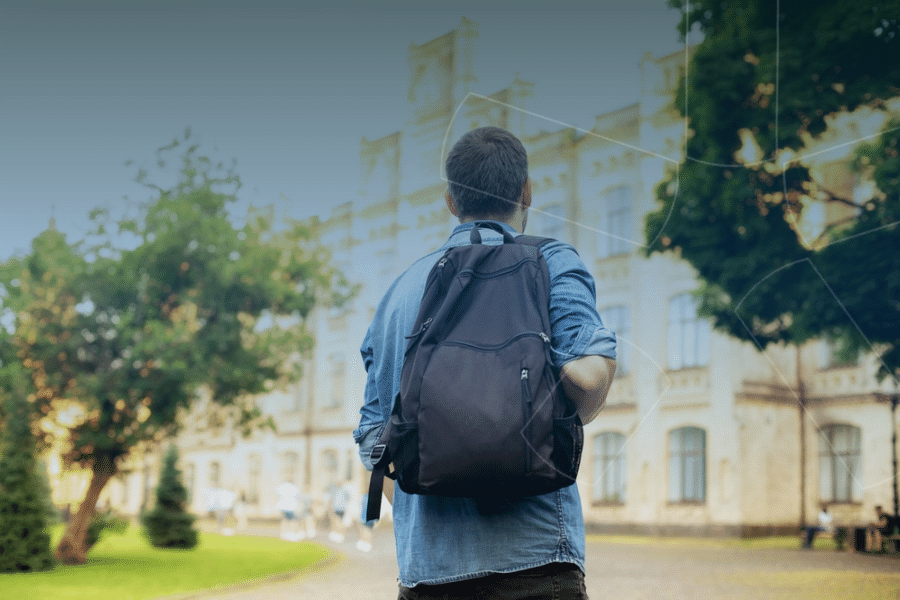 Unpredictable enrollment, on-campus lesson attendance that's all over the place and dwindling external funding have all conspired to create an identity crisis for university campuses – but university space utilization data can help to solve it.
The two types of people this identity crisis impacts every day are university timetablers and space planners.
This happens for two reasons.
First, students are learning and using campus spaces in ways that are virtually unrecognizable from just a few years ago. 76% of students are attending fewer lessons on-campus now than during Covid, and 65% of staff plan to leave the industry altogether by mid-2023.
Second, timetablers and space planners have no way of knowing what actually happened in classrooms and campus spaces.
Planning for the future without a thorough understanding of the present is equivalent to making decisions in the dark. This is a recipe for disaster when it comes to building a better campus – one that evolves alongside the needs and wants of students, staff, faculty, the community and strategic institutional objectives.
That's where space utilization – measuring how campus spaces are used – comes into the picture.
WEBINAR
How to Boost Efficiency and Remove Guesswork by Leveraging Data
Transformational Timetabling
Watch this 45-minute webinar to explore:
Key trends driving change in university campus planning and timetabling
Top pitfalls that lead to epic waste
How to use utilisation data to remove the guesswork from timetabling decisions
Watch Now
In this post, we'll look at the benefits of space utilization for university timetabling and space planning, and how to use it to build a better campus – both now and in the future.
What is university space utilization?
University space utilization is the measurement of how students, staff and faculty are using a space over time.
More specifically, space utilization rate is the percent of people occupying a space relative to its total capacity.
For example, a study space could have a 60% space utilization rate on Tuesdays at lunchtime and a 5% utilization rate on Saturday night.
Space utilization can be measured for rooms, zones, floors and buildings, but in the context of higher education it's key to focus on classrooms and other types of campus spaces like study and collaboration spaces, lounges, cafeterias and more.
Using space utilization data to understand occupancy patterns and trends is ultimately what helps institutions keep their physical spaces relevant and innovative.
But the benefits don't stop there.
Benefits of measuring university space utilization
Better student learning experience, since classes and spaces are shaped around student needs and wants – in particular, having career-ready students
Improved course offerings since more classes can be scheduled
Increased student attendance, since students enjoy being on campus
Data-driven university timetabling that accommodates students and makes the most efficient use of available space and time
Better space planning, since it's easier to predict the types and quantities of campus spaces needed
Spaces that inspire and support student wellbeing, since spaces can be configured in ways that spark connection and community
A visually innovative campus that appeals to future students, faculty and investors
Better staff experience that boosts retention, since on-campus workplaces are shaped around staff needs and wants
Reduced utilities and facilities management costs from repurposing and closing off underused spaces
Reduced carbon emissions from reduced use of heating, AC, lighting and facilities management services
How is university space utilization measured?
There's three ways to measure university space utilization – occupancy sensors, wifi or a combination of both.
Sensors are best suited to spaces that need more granular measurement, but are costly to implement and maintain on a wider scale.
WiFi is a more cost-effective option, especially across larger spaces.
A combination of both is the most practical and scalable way to measure university space utilization across campus, since it keeps hardware costs as low as possible without sacrificing accuracy.
How to build a better campus with university space utilization data
For this section, we'll break building a better campus into two parts: classrooms and wider campus spaces.
Let's look at classrooms. Space utilization data tells you:
How long classrooms are sitting empty
Which classrooms and courses have the most vacant seats
Which classes run undertime and overtime
With this data, you can build a better campus by:
Increasing course offerings by freeing up space for more classes
Assigning courses to the right sized classrooms, making university timetabling more efficient
Collaborating with faculty, real estate and curriculum delivery departments to make sure classrooms are properly resourced and find new ways to deliver lessons
Now we'll jump to wider campus spaces. Space utilization data tells you:
Where your campus occupancy hot and cool spots occur over days, weeks, months, semesters and years
Which space functionalities are most and least popular with students (e.g. individual study space, lounge areas)
How close to capacity spaces are at peak occupancy
With this data, you can build a better campus by:
Cutting back on energy and services in underused spaces, which reduces carbon emissions
Pinpointing which functionalities students are looking for and decide which spaces to repurpose
Changing space layout and design for inspiring spaces, a purpose-built student experience and more effective space planning
"Hubstar allows us to see how space is being used and occupied and helps us predict the space we'll need going forward."

Donna Porter, Senior Space Manager at Sheffield Hallam
READ MORE
How Sheffield Hallam University Uses Space Utilization to Build a Better Campus
Find out how Sheffield Hallam University is using Hubstar's space utilization solution to bring clarity to campus space management and timetabling in this interview with Donna Porter, Senior Space Manager.