How Can It Be That 45% Of CRE Office Spaces Are Empty At Any One Time?
HubStar
, Posted January 28, 2021
Under-utilization of space was a known problem for enterprises pre-Covid. Due to Covid, utilization is now obviously lower than ever. Even before the pandemic leading corporations were already working with innovative technologies that could help them run their real estate portfolios more efficiently. Due to the pandemic the need to do something about low office utilization is more pressing than ever. This will accelerate the transition to more data-driven decision making in corporate real estate. Let's take a look at utilization data that shows just how big this opportunity is.
Stepping into the office these days you can't help but notice all the empty spaces. Normally a place full of life and interaction, now merely a few critical team members are present. What might surprise you is that recent industry data proves how even before the pandemic there was low office utilization in corporate real estate. Find out the exact reasons why corporations even before the pandemic had low utilization levels and how you can change that while planning your return to office (RTO) and future strategy in this article.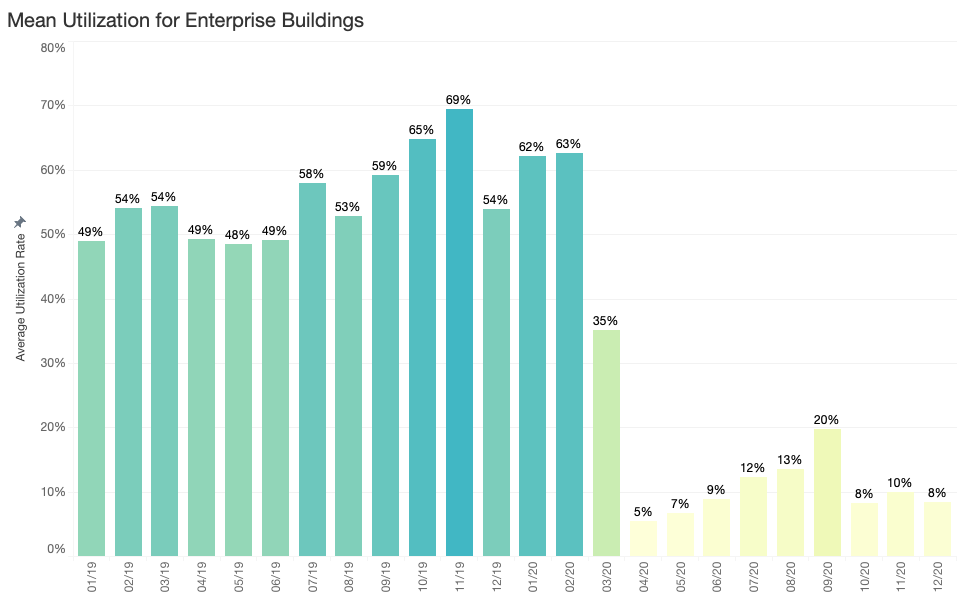 In 2019, mean utilization levels for enterprises never exceeded 69%, with a yearly average of 55.1%. To put that into perspective, that means that across the industry slightly less than half of all enterprise office spaces were being used at any one time. With the corona pandemic utilization levels have dropped even further to less than 10.2% on average, as most enterprises were forced to implement restrictions on the number of employees allowed in the office.
In September 2020 we saw a small peak of 20% utilization, due to several corona regulations being loosened. This peak was however short-lived as utilization levels dropped to 10% and below in the following months. And as working from home (WFH) has been a success for many, in the long-run enterprises will likely have to rethink their workplace environments. Therefore we have to ask ourselves, how can enterprises optimize their workplace experience while cutting costs when necessary?
Reasons for low office utilization levels
In the past, tracking utilization levels was always a difficult and time consuming task. However, with the rise of smart building technologies companies can no longer be excused from tracking utilization. For too long companies have relied on people and their perceptions of how office spaces are used, rather than actual data. The truth is that low office utilization is higher than people might think. Therefore moving from anecdotal evidence to hard facts in a time of unparalleled workplace changes is pivotal.
Moving towards RTO and beyond
Knowing that utilization levels at enterprises were low before the pandemic, and have dropped even further with corona, space utilization data is an absolute necessity. Nobody knows what the future in offices will look like exactly, and the data is your ally as you prepare. Tracking occupancy rates, moving to data-driven workplace design, and optimizing systems such as HVAC, lighting as well as cleaning services, allow you to optimize your office environment accordingly. Saving you millions per annum.
Ready to understand actual utilization levels in your company's buildings? Then start implementing space utilization data today to be ready when people do return to the office. We're here to help you out.