Pre-Covid Data Proves That 80% of University Spaces Are Vacant At Any One Time
HubStar
, Posted January 14, 2021
Low university space utilization was a known problem in higher education pre-Covid. Due to Covid, utilization is now obviously lower than ever. Even before the pandemic leading universities were already working with innovative technologies that could help them run their estates more efficiently. The pandemic was however able to accelerate the transition to more data-driven decision making in campus real estate. Let's take a look at some utilization data to see just how big this opportunity is.
Walking through a university campus these days you can't help but feel slightly uneasy. Normally a place of learning and great social interaction, university campuses in times of the pandemic have become vacant places. What might surprise you to know however, is that even before the pandemic university campuses were heavily underutilized, as recent industry data shows. Find out the exact reasons why higher education institutions even before the pandemic had such low utilization levels and why we can see large fluctuations in their utilization levels throughout the year in this article.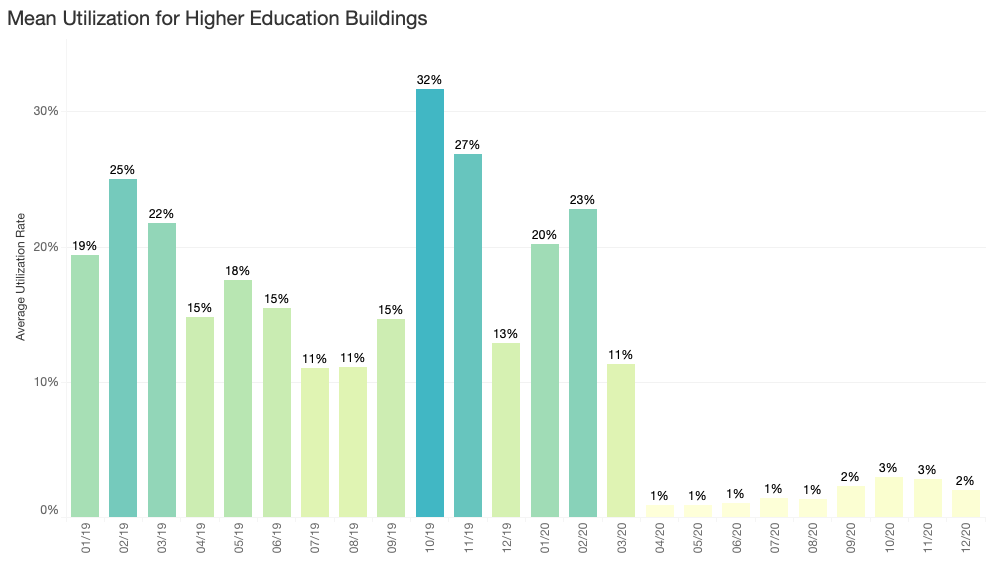 In 2019, mean utilization levels for the higher education industry never exceeded 32%, with a yearly average of 18.6%. To put that into perspective, that means that across the industry less than one fifth of university spaces were being used at any one time. With the corona pandemic utilization levels have dropped even further to less than 5%, as most universities have been forced to shut down almost all physical activities until further notice. And while online learning has mostly been a success, universities are in the long-run struggling to balance high maintenance costs with close to no utilization. Therefore we have to ask ourselves, where has it gone wrong for universities?
Reasons for low university space utilization levels
A starting point is to closer analyze the reasons for why we see such low and inconsistent utilization levels across universities.
Reason #1
First of all, universities have large social spaces such as cafeterias and libraries that are rarely ever fully occupied, that need to be large enough however to accommodate all students during lunch and exam periods. When these spaces are occupied most classrooms and lecture halls remain empty. So here a single purpose space problem can be identified.
Reason #2
Secondly, universities tend to schedule lectures and seminars for study programs across several days rather than on the same day. This often results in substantial in- and outflows of students using campus facilities throughout the day, rather than force them to stay on site.
Reason #3
Lastly, universities make use of semester systems to divide their academic years into periods. An academic year usually consists of two semesters, one in the fall and one in the spring. This creates large fluctuations in utilization levels throughout the year due to periods of lectures, seminars and exams (October, November, February & March) to vacation periods (July, August & the later part of December) where students rarely make use of university facilities.
Moving towards the new norm
Overall, a lack of actionable space utilization insights at universities can be identified. This leaves universities often guessing and experimenting with space usage rather than apply actual hard data. This leaves universities not only underutilized, but also with enormous maintenance bills for unnecessary uses of HVAC, lighting and non-essential cleaning services that eat away at university savings. Utilization levels at universities were low before the pandemic, but have dropped even more with corona making space utilization data an absolute necessity for universities going forward.
Have you had enough of low utilization levels at your university, then start implementing space utilization data today. We're here to help you out.