Smart Hybrid Workplaces in Smart Buildings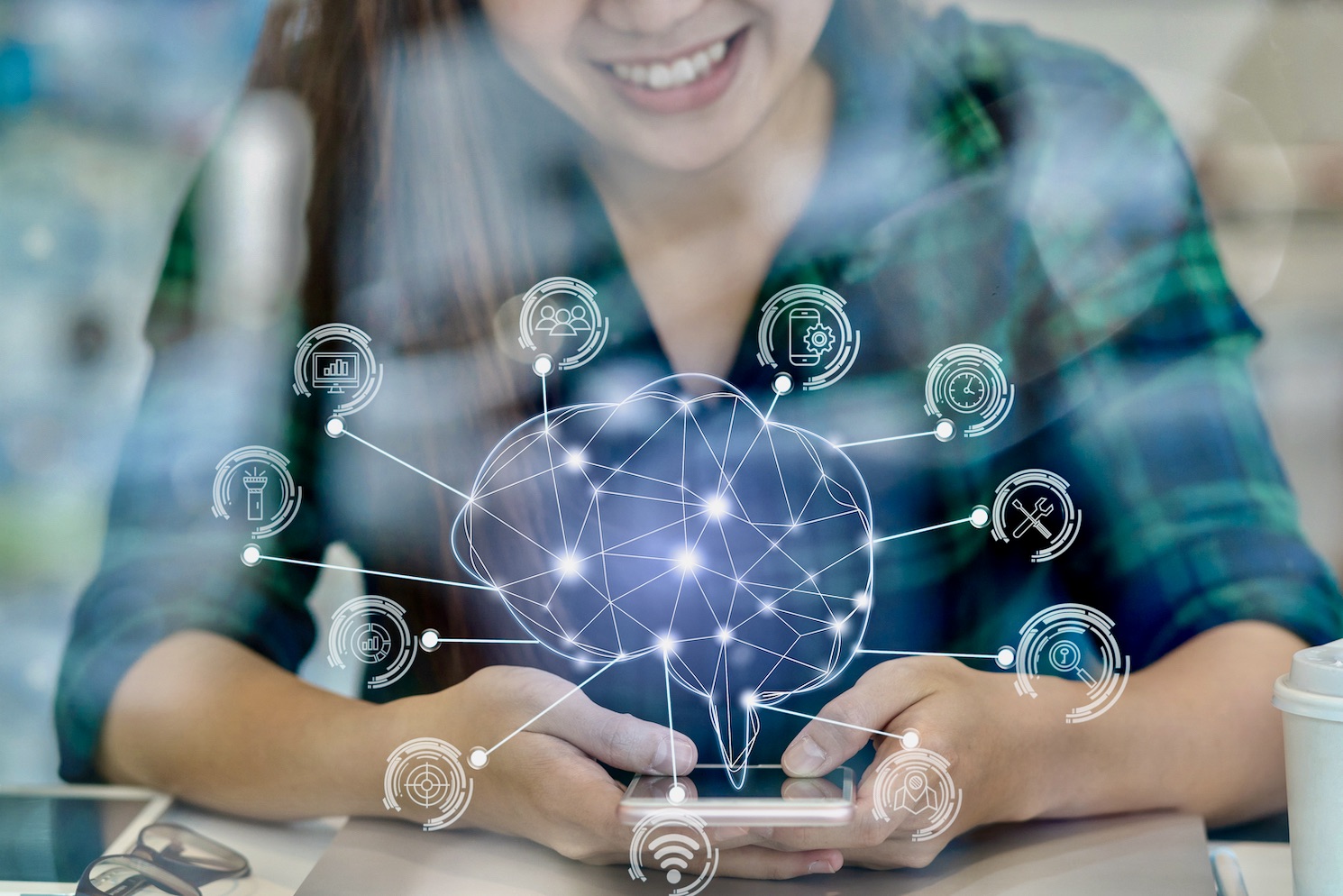 If you are considering implementing smart technology at your business, you are likely interested in how smart technology can improve your workspace effectiveness and efficiency. In this post we will answer your questions about smart technology, which is becoming increasingly popular in post-pandemic smart hybrid workplaces. Read on as we discuss how changes in the work environment brought upon by COVID-19 are resulting in a greater need for smart technology.
Defining a "Smart Workplace"
State-of-the-art technology is enabling teams to work simultaneously from different locations while still enabling high levels of communication and collaboration. This is becoming increasingly more important as many companies make the shift to a smart hybrid model, where employees are no longer together every day in an office. With a hybrid environment the preferred modality of employees and employers who want to retain a measure of flexibility, smart technology is the best option to achieve continuity and connectivity.
Before determining how a smart workplace can best serve your needs, we need to define what exactly is a smart workplace. Clearly, a smart workplace is one where technology is prevalently used, but it's not that simple. As part of a longer post entitled, " What you need to Know About the Smart Workplace," Vecos, a smart locker system company, defines a smart workplace this way: "A smart workplace is a workplace where technology enables people to work better, faster and smarter. It should facilitate the diversity in work and enable people to work in a space that's suited to their needs. Beacons, sensors and mobile apps help employees perform menial tasks better and faster, so they have enough time to focus on growing businesses and innovating."
What is a "Smart Office?"
Now that we have an understanding of what a smart workplace is, let's take it a step further and look into what a "smart office" entails.
A smart office encapsulates all elements of a smart workspace, but together. This can include a variety of smart technology, from workstations to conference rooms, visitor check-in areas to booking tools and space utilization software.
According to Meredith Hart, writing for Owl Labs, a company that makes 360 video conferencing devices,, "A smart office uses technology to help employees work more productively and efficiently, whether employees are working in the office or working remotely and connecting with their in-office team. Smart offices use connected technology and analytics to understand how the workplace can best serve employees so they can work productively."
Hart continues on to write, "Smart office technology often includes video conferencing software and hardware tools, meeting room and desk booking software, and office analytics tools to provide insight into how different office spaces are being used. This technology smart office technology adapts to the communication styles of the evolving workplace and provides data, resources, and tools to make the future of work as productive as possible."
Future of Work
COVID-19 caused a dramatic shift in the way that people do work. The change, which happened virtually overnight, made workers across the globe keenly aware of the importance of having the right technology in place to ensure a smooth transition to remote work. Because many offices that operated entirely in-person were shuttered and forced into a remote modality, rapidly making the right technology accessible to employees was paramount so business could continue uninterrupted. While many workers have begun returning to the office, companies large and small are transitioning away from the Monday through Friday full-time schedule in the office that was the norm pre-pandemic, and instead allowing for employees to split their time between the office and home. With that said, as workers figure out "smart workplaces" of the future, it is becoming apparent that successfully navigating the right balance for your company will not be determined just by having technology, but rather having the right technology coupled with the proper resources.
Deloitte, a multinational professional services network, published a piece entitled, "The digital workplace reimagined," which touches on why success in the modern workplace requires more than just providing technology. The piece, written by John Brownridge, Digital Workplace Leader, Steve Hatfield, Principal of Global Future of Work Leader, Arthur Mazor, Global Leader of Human Capital Practice, and Walt Sokoll, Principal of Human Capital, reads in part, "It turns out that there's more to the digital workplace than simply providing workers with online access to office applications. Although most organizations were able to quickly pivot to remote work—no small accomplishment under the adverse circumstances they were dealing with—for many it was business as usual overlaid with piecemeal digital solutions."
The Deloitte authors go on to say, "To go from looking digital to living digital, the workplace must be redesigned to operate in synchrony and connect all workers to those that they work with when, where, and how they need it—regardless of location, device, or time zone. Making the shift requires connecting worker experience to business outcomes. By putting workers at the center of design, it becomes possible to create a digital workplace that transforms how people collaborate, get work done, and ultimately do business."
Smart Technology and Efficiency
Hybrid workspace technologies and software can certainly improve productivity and efficiency in the workplace, if used correctly.
In a post entitled, "Smart Technology to Increase Efficiency in the Workplace," New York Ave, a digital marketing firm, addresses the subject of how technology can increase workplace efficiency. According to New York Ave's post, "Thanks to the Internet of Things (IoT), smart technology is now widely available, and taking advantage of smart applications in the workplace can allow you to increase productivity, streamline workflows, reduce costs, and create a safer and more comfortable work environment for your employees."
New York Ave goes on to list 8 devices that can help to create an efficient workplace, and we are sharing that list below:
Noise Cancelling Earbuds
Air Purifier
Smart Note Taking
Virtual Assistant
Smart Thermostat
Smart Security
Occupancy Management
Smart Furniture
Smart Tech Put to Use
In a recent podcast for EY Global, a professional services network, Seth Patton, the Microsoft General Manager for Microsoft 365 & Microsoft Viva Product Marketing is quoted providing a helpful example of the importance of smart technology in the workplace. Patton says in part, "If we just look at Microsoft 365 cloud services alone, today hundreds of millions of people. So hundreds of millions of people every day, are collaborating over 30 billion minutes. And that's double just a year ago. Microsoft Teams in particular has become that default place where hybrid work happens. It's unique because it does bring together chat and calling, meetings and collaboration into one single experience. But while technology like Microsoft Teams has helped us to adapt to hybrid work, there's so much more that we can do to create a great employee experience. And that's why we built Microsoft Viva. With Viva, we're really focused on empowering teams beyond just productivity and collaboration. We want employees to feel engaged to feel connected to their company purpose and mission, to learn and grow and to make an impact regardless of where they work."
Smart Technology Benefits
As has become clear over the course of this post, there are a variety of benefits to creating a smart hybrid workspace, if done correctly.
Optify, a company that delivers fiber and Wi-Fi connectivity, published an informative post on the benefits of smart technology, written by Mark Gibson, PCCW Global Networks UK Marketing Manager. Gibson shares the following 7 ways that smart technology can improve your workplace:
Enhance Office Efficiency
Improve Employee Productivity
Enable Energy Conservation
Enable Cybersecurity
Improve the Supply Chain
Coordinate Operations
Track Manufacturing
Smart technology is the future
HubStar, is a space utilization software that helps to optimize and creative adaptive workplaces. Our technology works to enable data-driven real estate decisions providing you with proactive insights that can save you money on unnecessary leases and improve employee experiences.