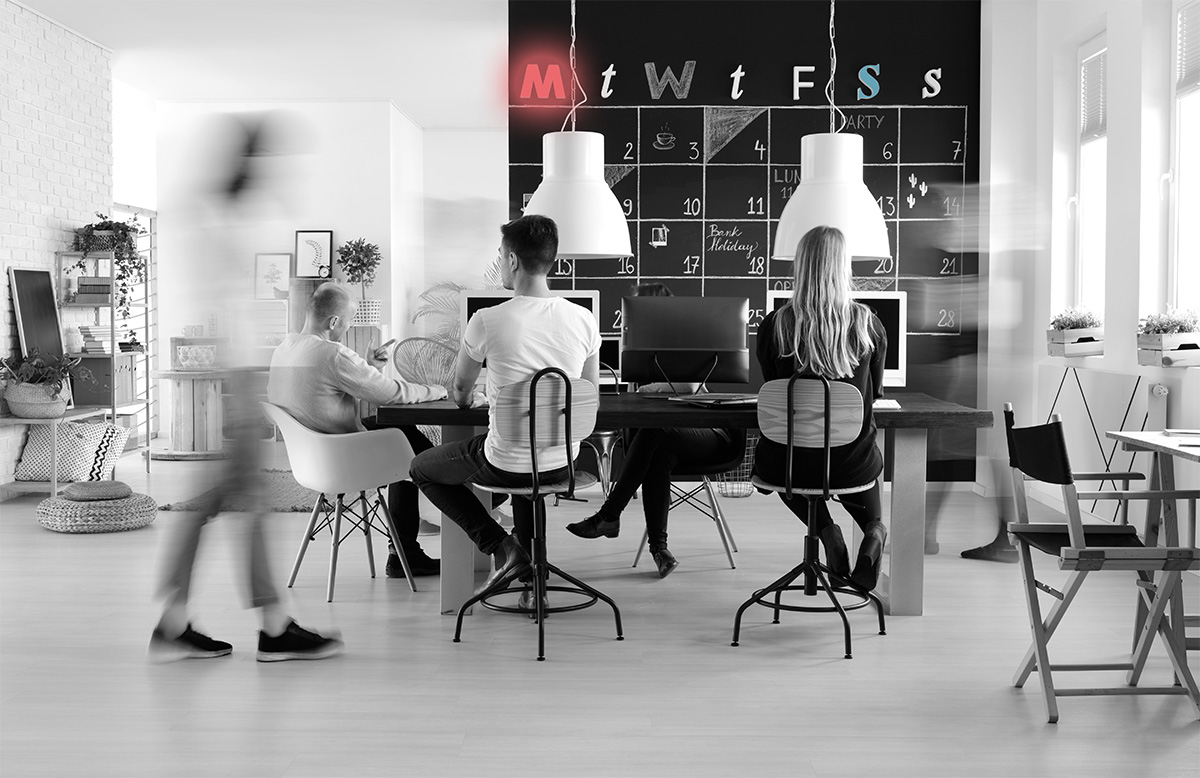 Why is Space Management Important?
HubStar
, Posted June 10, 2022
When thinking about the characteristics of a successful company, talented employees, efficient operations, and visionary leadership come to mind. While it may not seem obvious, effective space management is a critical component when it comes to the long-term viability of your business. In addition to helping your bottom line by saving your company money, using your space to its fullest potential can also increase employee experience and as a result, drive up productivity.
What is Space Management?
So, what exactly is space management? At its core, space management means exactly what it sounds like:, referring to managing and overseeing the physical space that a company occupies. This includes all aspects of your company's footprint, from floor plans to meeting rooms, parking lots and everything in between.
Planon, a global provider of Real Estate and Facility Management software, defines space management in the following way: "Space management is the management of an organization's physical space inventory. This involves the tracking of how much, managing occupancy information, and creating spatial plans." Regarding the overall importance of space management for your organization, Planon further explains, "Having a clear understanding of space is a critical component of effective facility management, as it is the foundation for many other activities, such as: occupancy management, move management, room reservations, maintenance management and property management."
Understanding the Benefits of Space Management
Now that you have a clear understanding of what space management means, let's look at the benefits.
Service Works Global, a provider of integrated workplace management systems for facilities, real estate, and space management, writes extensively on the subject of benefits to space management.
A post from Service Works Global reads in part, "The benefits of taking a strategic approach to space management are numerous and include: improved space efficiency; reduction in vacant space; better management of office expansion and reduction; improved staff productivity; improved communication; operational cost savings; improved compliance; and better strategic planning for the future."
Service Works Global continues to say, "An organization with well-managed space can respond quickly as situations change, adjusting to business expansion and shrinkage, efficiently managing departmental moves and changes, and ensuring the space available is also used to its optimum efficiency, saving money. A well-managed space ensures a more productive, and usually efficient, workforce."
Core Benefits Include:
1. Little-to-no wasted space
2. Knowing what space is used for what, always
3. Forward-planning for company growth
4. Adapting the workplace for modern ways of working
5. Increased energy efficiency
6. Boosted employee satisfaction levels
7. Protecting the wellbeing of the workforce 8. A foundation for total facilities management
Terminology
There are a lot of acronyms in the world of space management, so familiarizing yourself with the lingo will definitely help you to better understand the field.
Two very common acronyms are CAFM and IWMS.
CAFM stands for Computer Aided Facility Management and IWMS stands for Integrated Workplace Management System.
What do those two terms mean?
Adapt Network, an independent online adventure lifestyle magazine, addresses CAFM and IWMS in an article entitled, "Major differences between CAFM and IWMS.".
Adapt Network explains the terms this way: "A specifically designed and developed software is the core of IWMS. The software facilitates the management of all the work, and associated activities, of an organization. With the IWMS available, the facility manager can monitor and manage all the tasks in different sections simultaneously."
Adapt Network continues, "CAFM is also a software-based system only. The facility management team can use the system for managing the facilities and utilization of space optimally. "
Elements of Good Space Management
Now that we've covered what space management is and why it is so important for your company, let's dig a little more into what is involved.
There are a variety of different factors that make up a good space management strategy. Two of the most important elements include workplace scheduling software and space utilization software.
Workplace scheduling software, like that offered by Smartway2, makes implementing hot desking a seamless endeavor. As more and more companies are transitioning to a hybrid modality following an extended period of remote work because of the pandemic, there is a subsequent need to adjust how your space is used since it is not practical to expect a return to the exact same way you operated before COVID-19. With employees dividing their time between home and the office, it is imperative you ensure they have access to adequate space, equipment, and resources on the days they return to the office. Space utilization software can prevent a situation where too many or too few employees show up on a given day. In addition, space utilization software also allows you to map out your office in real time with desk booking, digital signage, and visitor management.
Below is a more comprehensive list of the features our workplace scheduling software will enable for your company:
Optimize space utilization while controlling office occupancy
Increase productivity and collaboration
Automate repetitive resource scheduling tasks
Create a world class experience with agile room and desk booking
Reduce your carbon footprint
Space utilization software collects aggregated workspace, utilization and occupancy data from WIFI networks, hardware sensors and API connectors form software vendors. Our technology can help you to understand patterns in space utilization, scheduling trends, occupancy patterns and get actionable insights in real time against capacity levels.
HubStar's workplace analytics solution is a transformational platform for real estate and facility leaders who need to truly understand how to deliver the best return on investment throughout their portfolio – globally, whilst solving the new challenges faced by hybrid work modelling.