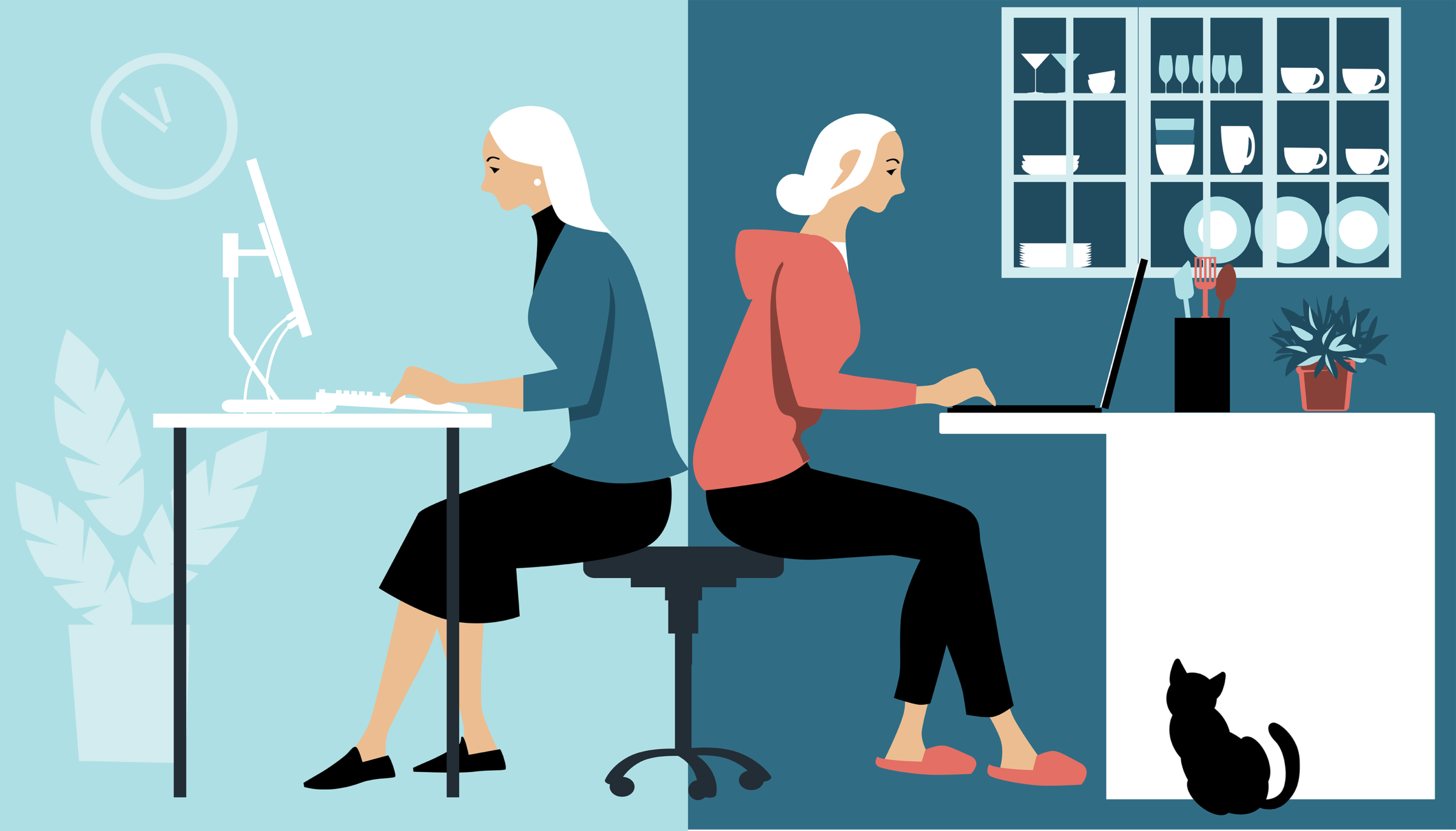 What Is Hybrid Work And Why Is It Important?
HubStar
, Posted May 27, 2022
After spending more than one year working remotely because of COVID-19, companies around the globe have jumped on the hybrid work bandwagon as they start to figure out their path forward in a post-pandemic world. Hybrid work, which has been called the "best of both worlds," has gained a lot of popularity and publicity since the start of the pandemic and for good reason. By allowing employees to split their time between the office and home, companies are embracing the flexibility that employees became accustomed to while they worked remotely during the onset of the pandemic.
So, what exactly is hybrid work? Why has it become such a popular trend? What should you know about it? If you are considering implementing a hybrid work style and are asking yourself these questions, then you've come to the right place. In this post we will break down everything about hybrid work to help you make the right decision for your company.
What is hybrid work?
To put it simply, hybrid modality entails a combination of traditional work in an office and remote work. A hybrid style typically revolves around the concepts of flexibility and agility, which puts workers in the driver's seat to make the decisions about how, when and where they get their job done.
Webex, a company that develops and sells video conferencing, online meetings, screen share, and webinar software, breaks down hybrid work in the following way… "Hybrid work is a people-first approach to managing the workforce that drives increased productivity and job satisfaction while addressing the major challenges of remote work, such as isolation and lack of community. A hybrid work model provides employees with greater flexibility and the option to work from home or anywhere they can be productive. With hybrid work, the workplace is no longer inside the four walls of the corporate office—it's an ecosystem of employees working from home, in coworking spaces, and the office. Team members can migrate between various locations depending on the work they need to get done. The hybrid work model can take different forms depending on the organization and the type of work being done."
Different hybrid work models
Because hybrid work is a very fluid and flexible modality, there are different approaches to implementing a hybrid model, depending on your business's individual needs. It is important to understand there is no one-size-fits-all hybrid model.
Rebecca Hinds, columnist at Inc., a business media company, authored an informative column entitled, "The 5 Hybrid and Remote Work Models for Your Business."
In her piece, Hinds breaks down five different models of hybrid and remote work, explaining the distinctions and why a single catchall term is not an accurate description of the different modalities that you may implement. We are sharing Hinds's list below:
Office-centric hybrid
Fully flexible hybrid
Remote-ish (or remote-friendly) hybrid
Hybrid remote-office
Remote (or virtual)-first
Why hybrid work?
If you are considering a hybrid modality, the first question to ask yourself is why is this the right modality for your company? Let's answer that question with some of the more commonly-cited reasons hybrid work has become a leading trend over the last year.
First and foremost, research – including a survey done by Smartway2 about a return to work -has shown that workers crave flexibility, and hybrid work definitely allows for flexibility. Because many employees spent more than a year – in some cases more than two years – showing they can perform their jobs effectively and efficiently from home, employers have responded by allowing employees to continue doing so. Hybrid work has also proven to boost employee well-being and productivity. For example, hybrid work allows for a better work-life balance by limiting the amount of time employees spend in their commuting to an office.
AWA's post, entitled "What are the Benefits of Hybrid Working, "breaks down the advantages of a hybrid model into 3 categories: benefits for individuals, benefits for organizations and benefits for society.
Benefits for an individual?
Improved Employee Well-being
Effective Increase in Income
Increased Mobility
Benefits for an organization?
Reduced real estate costs
Improved worker productivity
Improved retention rates
Bigger talent pool
Ability to grow head count without added space costs
Improved visibility of senior leaders
Benefits for society?
Environmental benefits
Higher employment rates
A healthier society
Changing times
For the overwhelming majority of working people, the pandemic changed the way that employees perform their jobs, and it happened seemingly overnight.
Data collected by analytics and advisory company Gallup, in a piece written by Ben Wigert, Director of Research and Strategy Workplace Management, offers a helpful perspective of just how dramatic the change in the workforce was to the workforce because of the pandemic .
According to research cited by Wigert, "Before the pandemic, very few remote-capable employees worked exclusively from home (8%), while about one-third had a hybrid work arrangement. Then the pandemic hit, and the vast majority of remote-capable employees were forced to work from home in some capacity — as many as 70% worked exclusively from home in May of 2020. Fast forward to February 2022. Most remote-capable employees continued to work from home at least part of the time, but the mix became a nearly even split — 42% had a hybrid schedule, and 39% worked entirely from home."
Making the switch to hybrid work
It is a big decision for a company to make the transition to a fully hybrid modality. While the adjustment period for employees will be made easier because of the extended amount of remote work done during the pandemic, permanent hybrid work is still a culture change. Before any change in modality is implemented, it is imperative to gain an understanding of how hybrid work will affect your business and employees because that is the first critical step to success.
Kristina Martic, writing for Haiilo, an employee engagement platform, authored a post we find particularly helpful about how to successfully adopt a hybrid modality. Below we are sharing with you advice from Martic's piece, which is entitled, "Hybrid Work: 8 Ways to Ensure a Smooth Transition to the New Model:"
Understand your employees' needs and preferences
Set and communicate clear goals and expectations
Make employee communications your priority
Frequently ask for feedback
Give guidance
Don't discriminate
Introduce new benefits for remote employees
Assess and update your organization's tech stack
Flexibility is Key
While much of this piece has highlighted the importance of flexibility to the workforce, we wanted to close with more data to reinforce this point.
In April of 2021, just over a year after COVID-19 was declared a pandemic, WeWork released the results of a survey they conducted with research firm Workplace Intelligence. The research was conducted among 1000 c-suite and 1000 non-c-suite employees, and the results reinforce just how critical flexibility is to workers.
According to WeWork's post about the survey, "75% would give up at least one benefit or perk, including healthcare coverage, cash bonuses, and paid time off, for the freedom to choose their work environment."
WeWork goes on to say, "A closer look at the data reveals that between 20 to 25% of employees would be willing to sacrifice each individual benefit or perk. But when you consider that over 1 in 4 workers would give up cash bonuses or healthcare benefits—which are very real, tangible benefits—in exchange for the freedom to choose their work environment, it's apparent that these findings are in fact quite astounding. And they underscore the immense value that employees place on having flexibility in how and where they work."