Workplace Management Solutions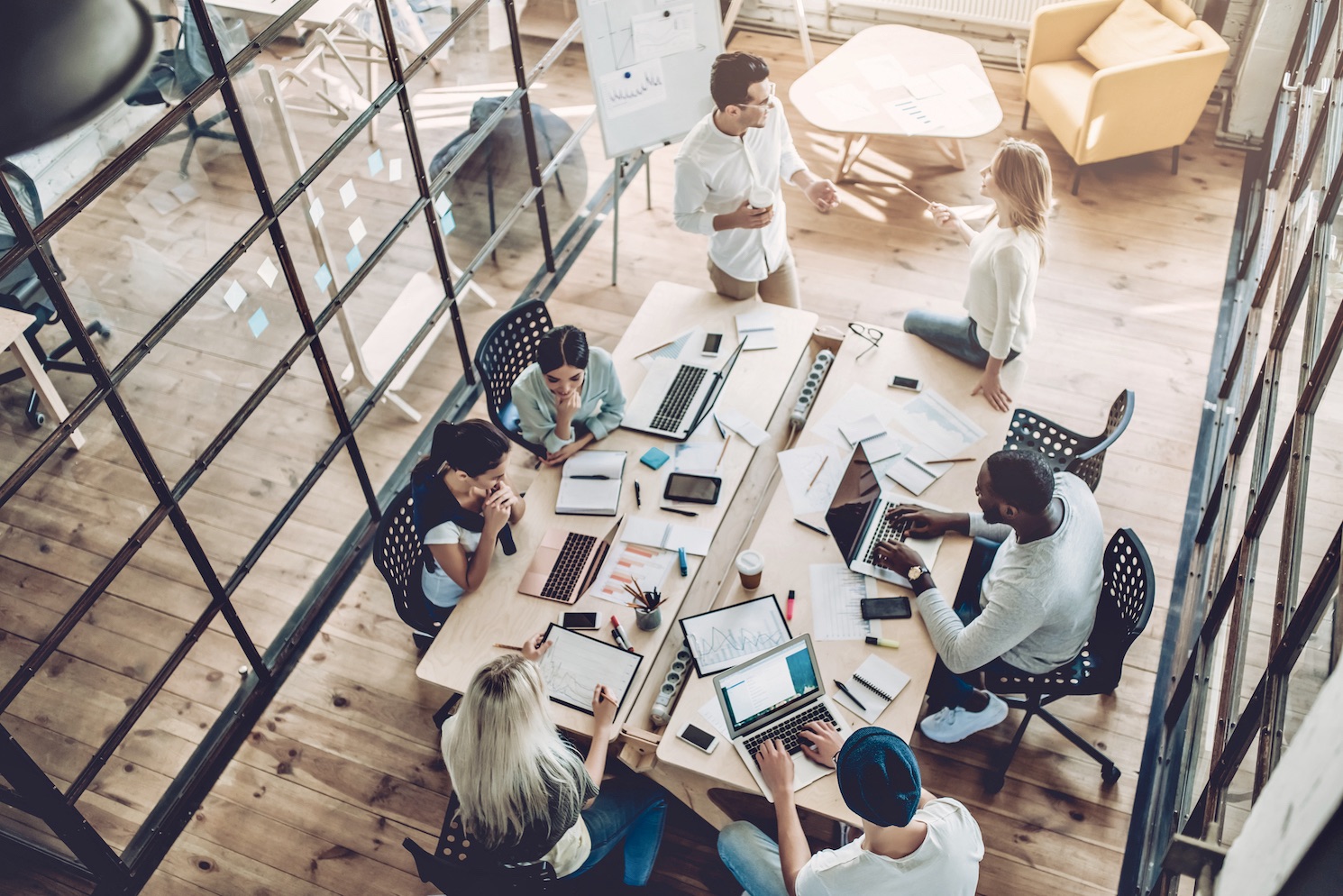 There is no denying that the pandemic has caused a tremendous shift in the way people get their job done. After more than a year – and in some cases two years – of many companies operating remotely, research has shown that employees do not want to return to the office five days a week, though nor do they want to continue entirely remote. The overwhelming majority of workers prefer a hybrid model where they get to split their time between home and the office. With that said, priorities for workspace management solutions have clearly changed as companies begin to determine what their new normal looks like as employees return to in-person work. Read on as we explore the concept of workspace management solutions and highlight 7 features for the post-pandemic office.
Seismic Shift
Writing for Gartner, a technological research and consulting firm, Mary Baker – Director of Public Relations and Corporate Communications – reports that "48% of employees will likely work remotely at least part of the time after COVID-19 versus 30% before the pandemic. As organizations shift to more remote work operations, explore the critical competencies employees will need to collaborate digitally, and be prepared to adjust employee experience strategies. Consider whether and how to shift performance goal-setting and employee evaluations for a remote context."
The research referenced above, from Baker's piece entitled "9 Future of Work Trends Post-COVID-19," echoes the trends seen across all industries as a shift is made to a hybrid work style. Not only do the numbers show that people want to work from home at least some of the time, but data also points to the fact that workers now crave the greater sense of flexibility that was provided to them when the pandemic forced a remote modality.
Technology is Key
It is important to note here that there is no one-size-fits-all approach to hybrid work. In order to successfully complete the transition into what your company decides is your "new normal," it has become evident that technology will be critical to ensure business continuity.
However, your company decides to implement a hybrid model – whether it be assigned scheduling or allowing employees to pick and choose when they come into the office – for your business to function as seamlessly as it did pre-pandemic when everyone likely worked together in-person, or during the pandemic when everyone worked remotely – employees must be connected at all times because a hybrid system will be different.
Having the right technological tools for your company will enable your employees who are in the office on a given day to operate smoothly alongside their colleagues who are remote, ensure customer and client relations remain undisturbed and allow your company to compete for new talent – and retain existing talent – who want to work remotely.
An article published on PwC's website reinforces the point about the importance of technology in the modern workplace, stating in part, "Going forward, nearly half of CEOs say they plan to increase their long-term investment in digital transformation by 10% or more. That includes technology solutions to support higher levels of remote working, such as productivity analytics and collaboration suites that bridge the gap between people who regularly work in the office and those who work remotely."
7 Workplace Management Solutions Features: Post-Pandemic Office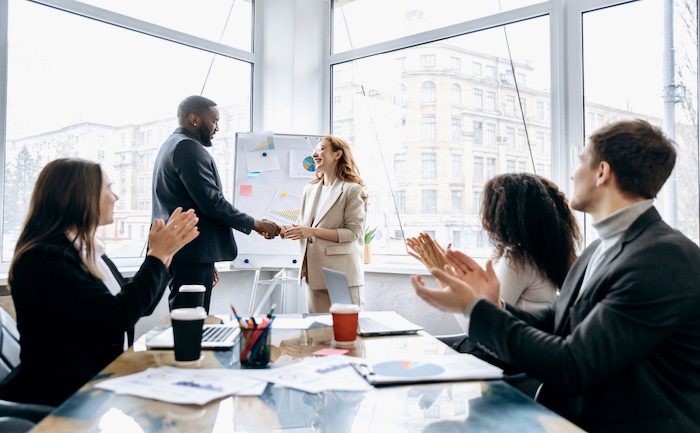 Now that we have covered how and why the post-pandemic workplace is changing, and that technology is of the utmost importance to future success, let's take a look at some of the elements your office will need to implement to stay competitive as you begin to determine the future of work at your company.
Desk Booking Tool
A good workplace scheduling system will enable your team to plan ahead. The ability to book space, such as desks and conference rooms, will allow employees the space they need when they come into the office and will ensure the company has the ability to make the best use of the space available.
For example, if you adopt a hybrid model where employees get to pick and choose when they come into the office, you will want to make sure that everyone doesn't pick the same to come into the office, or else there will not be enough space or resources.
Similarly, you do not want a situation where no one shows up to the office on the same day so the entire space is vacant. The goal is to have a hybrid system that operates smoothly, meaning an even division of resources that are available to your employees at the same time. At SW2 we offer an easy-to-use smart engine that will allow you to customize your needs.
Smart Sensors
Smart sensors can enable your company to keep track of space that is being used and will allow for more efficient and effective use of the office space. This is especially important as many companies work to re-design their offices to better suit a hybrid work environment. If you transition from a pre-pandemic work environment where everyone worked in-person five days a week to a hybrid modality where employees come in a few days a week, your space needs must adjust accordingly. Individual offices that sit empty for multiple days at a time is not an efficient use of space, so implementing sensors along with changing your layout space will help you determine the best way to maximize your office.
Built in Social Distancing Protocols
As we navigate multiple variants, it is clear COVID-19 is not receding, and because of this, public health is constantly evolving. As employees start to return to the office, health and safety protocols are paramount. For example, both employees and employers have an expectation there will be social distancing policies, readily available sanitizer and cleaning supplies and masks when necessary.
At SW2 our rules engine allows you to quickly adjust, adapt and implement health and safety protocols.
Contact Tracing
Along those same lines as health and safety protocols, contact tracing has proven to be an important tool in battling the pandemic. If and when someone on your team gets sick, whether from COVID-19, the flu or something else, it is imperative you have the ability to inform anyone who has been a close contact, and that you can do so in a rapid and efficient manner. Again, this is a tool that SW2 is proud to offer as part of our services.
Touchless Sign In
The pandemic has forced people to be more conscious about how germs are spread, including with shared surfaces. As a result, limiting shared touch is a good idea. This is why touchless visitor sign-in is becoming more popular as a space management solution. It's important to know who is where and when at a given time, but with our technology, there is no longer a need for the pen and paper sign-in that many of us were accustomed to before the pandemic.
Cloud
Considering how prevalent hybrid or remote workplaces have become in the past year, the cloud is a vital element for ensuring your employees have the resources they need when your company has people working from different places at the same time. It is imperative that your cloud is set up to allow employees access to the information they need wherever they are, no matter the time. That said, it is equally important to make sure proper safety and security protocols are implemented to keep your data and networks secure.
Space Utilization Software
Knowing how and when your space is used can help you to operate more effectively and efficiently, which can also help you save money. Space utilization software has become a must-have tool in the world of real estate management. This is where HubStar can assist your company. Our technology can help you to reduce your portfolio costs, enable a data driven workplace design and improve employee experience.
HubStar, is a space utilization software that helps to optimize and creative adaptive workplaces. Our technology works to enable data-driven real estate decisions providing you with proactive insights that can save you money on unnecessary leases and improve employee experiences.