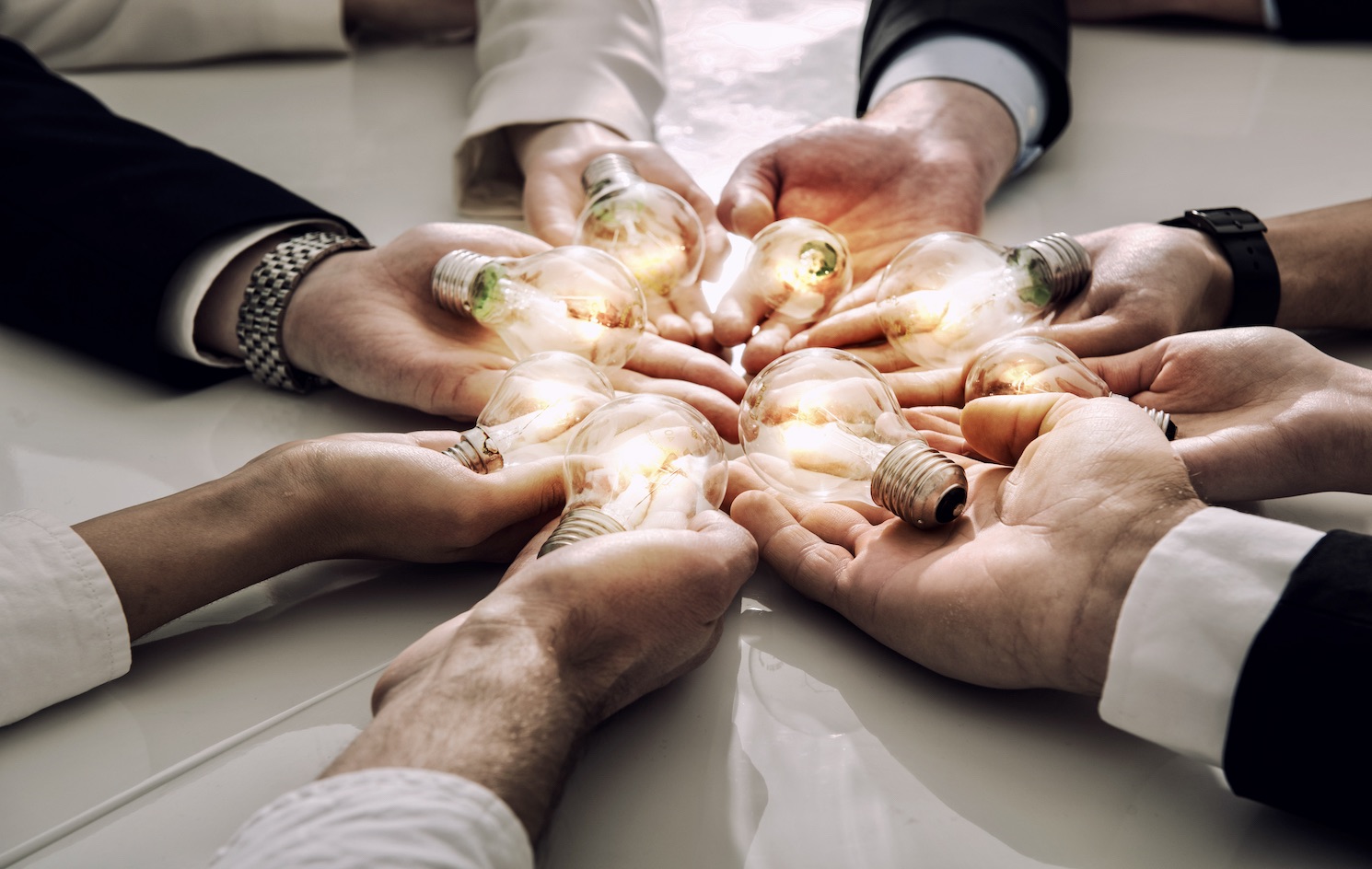 Benefits of Sharing Knowledge in the Workplace
HubStar
, Posted February 8, 2022
In March 2020, as COVID-19 was declared a pandemic by the World Health Organization, seemingly overnight much of the global workforce shifted to remote working. Many employees who had exclusively worked in an office were forced to work from home for the first time, with this lasting more than a year for most workers.  While employees soon discovered much of their job could be completed effectively from home, what became immediately clear was that sharing knowledge through a computer screen was not quite as easy or natural as it once was in the office.
Preserving interpersonal relationships and fostering creativity, both of which are best done face-to-face, continue to be crucial as many companies transition to hybrid work. In fact, some companies are even redesigning their office layouts to make the office to be a place where colleagues can more easily interact and share ideas, rather than the pre-pandemic traditional model of individual offices and closed doors.
The Data
Smartway2's Return to Work survey highlighted the importance respondents place on in-person knowledge sharing and just how much employees miss the human interaction that takes place in the office.
Specifically, the results showed that 40% felt sociability was the main thing the office provided that working from home lacked. The survey also revealed that 37% believed spontaneous collaboration with colleagues was the biggest difference between working in a traditional office and working from home.
Benefits of Knowledge Sharing
Why share what you know? Kaiser Spiro, Co-Founder and Chief Learning Strategist at Easy Generator, an e-learning software company, answers that question as part of a post entitled, "The importance of knowledge sharing." According to Spiro, "Employees have lots of knowledge that is crucial for your organization and their colleagues. Sharing knowledge helps them connect, perform better, and become stronger as professionals. Some examples of advantages of knowledge sharing for your organization is that you can save money on training, and capture and keep know-how, even if one day employees decide to work somewhere else."
Gary Stringer, Content Marketing Manager at HowNow, an intelligent learning platform, has put together a helpful list of advantages to knowledge sharing in a longer post entitled, "7 reasons why knowledge sharing is important." We are sharing Stringer's list with you here:
Collaborate and build collective knowledge
Find better ways of doing things
Build a community and learning culture
Create better customer experiences
Retain knowledge
Connect remote employees to knowledge
The feel-good factor
10 Advantages of Teamwork
You've likely heard the cliché "teamwork makes the dream work." Like many clichés, it may sound corny and be overused, but in many cases it is true. Teamwork can have many positive impacts in the workplace, some of which are obvious and will come to mind immediately, but others you may not have considered just yet.
Atlassian, an Australian software company, posted a thoughtful article written by Tracy Middleton entitled, "The benefits of teamwork (as proven by science)." In Middleton's post, she offers 10 advantages to teamwork and we are sharing her list with you below:
Better problem solving
Increased potential for innovation
Happier team members
Enhanced personal growth
Less burnout
More opportunities for growth
Boosted productivity
Smarter risk taking
Fewer mistakes
Expanded creativity
How to Foster Knowledge Sharing
So, if you have decided that you want to foster an environment with more knowledge sharing and teamwork in your hybrid workplace, you may be asking yourself what are the next steps to take.
Starmind, a private software company based in Switzerland, put together a helpful list of 7 ways to "improve knowledge sharing across your organization," and we are sharing Starmind's suggestions below:
Encourage & Foster the Right Mindset
Create Spaces for Sharing to Happen
Encourage Several Forms of Knowledge Sharing
Lead by Example
Have Experts Share Their Knowledge
Formalize a Process
Use the Most Effective Tools
Friendliness
Did you know that friendliness in the workplace can make a huge difference? While it may seem like a given in your industry to be friendly and courteous with both internal and external audiences, the magnitude of how much of a difference being friendly makes might surprise you.
Before we go any further into the real-life examples, let's define friendliness. According to Merriam Webster, friendliness is a disposition to goodwill, warmth, or kindness to others.
Heather Harper, writing for WorkStyle, a company that focuses on building more effective teams, authored a piece entitled, "The 5 Most Intriguing Benefits Of Friendliness In The Workplace." According to Harper, "Being friendly, and creating a friendly environment within your team, will promote a sense of knowledge sharing within the team. Being friendly allows for face-to-face collaboration which allows employees to flourish from each other and share their ideas and experiences. This means that employees will feel comfortable with sharing their experiences, ideas and skills with others because they feel appreciated and like they can trust their employees to value their knowledge and not judge them. This will benefit your team massively as it will create a sense of trust and will be the fuse for creativity and enthusiasm."
Hybrid Work
As you have likely gathered in your own experience and confirmed with this post, knowledge sharing is a crucial element for success in a hybrid work environment.
Apollo Technical, an IT and Engineering recruiting company, shares the following statistic based on research, "Employees and employers who took the Remote Work & Compensation Pulse Survey in May 2021, 48% expressed a desire to be fully remote. 44% of employees favored hybrid working arrangements. Among employers, 51% support the hybrid work model, while only 5% mention fully remote work as a possibility."
With so many companies choosing a hybrid model, it is important to make sure knowledge sharing is fostered both in person and remotely.
There are a variety of tools in the marketplace to help with increase and/or improve your efforts toward knowledge sharing. Lindsey Bly, Head of Marketing at Scribe,a Chrome extension company, authored an informative post entitled, "10 Knowledge Sharing Tools That are Shaping Hybrid Work." To give you a better sense of the tools that can be at your disposal, we are sharing with you the categories of tools that Bly describes in her post:
Visual collaboration tools
Wiki and knowledge-base tools
Document collaboration tools
Asynchronous communication tools
Procedural knowledge-sharing tools
HubStar, is a space utilization software that helps to optimize and creative adaptive workplaces. Our technology works to enable data-driven real estate decisions providing you with proactive insights that can save you money on unnecessary leases and improve employee experiences.