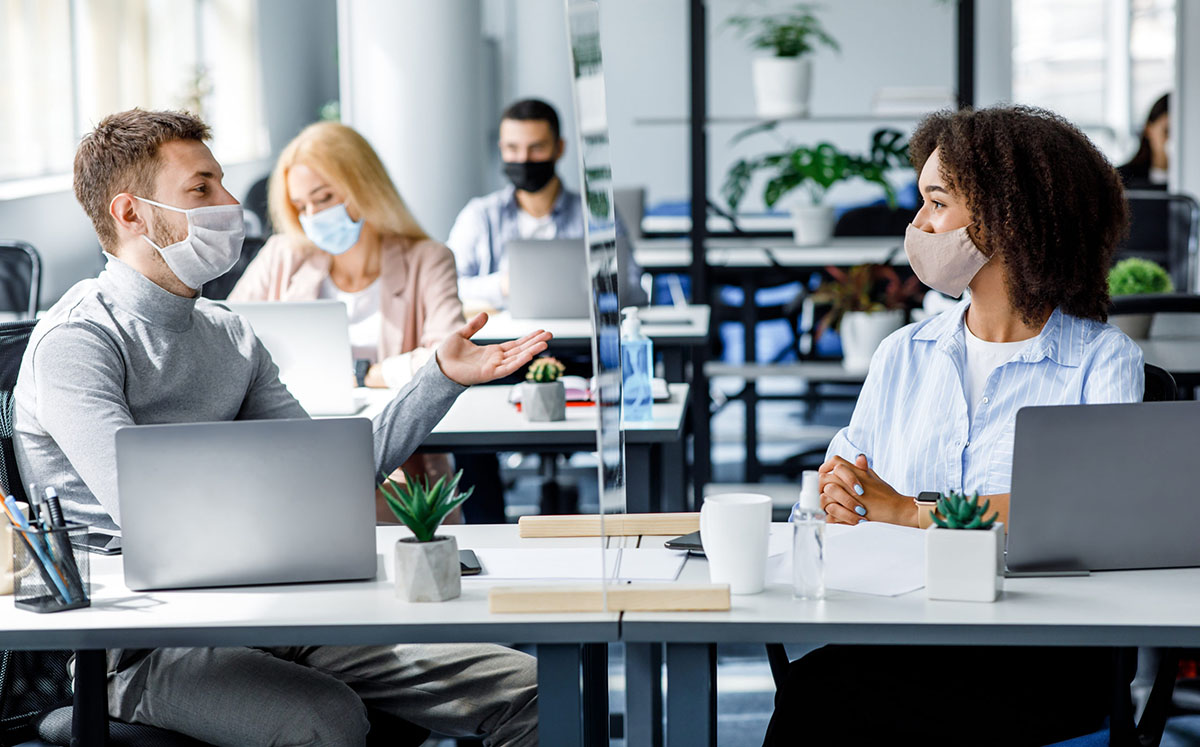 Measuring Return to Office
HubStar
, Posted May 30, 2022
Writing your company's next chapter for a post-pandemic workplace can be a daunting task, because there is not a one-size fits all approach. The pandemic has dramatically changed the way business is conducted across all industries and sectors, and more than two years after COVID-19 began wreaking havoc across the globe, many of these changes will be permanent including the introduction of hybrid work. Each business will have to decide the best path forward that meets their individual needs, how to re-engage employees in the workplace and measure the return to the office.
One of the more immediate decisions is determining the modality by which your company will operate. Seemingly overnight in March 2020, much of the workforce went from a traditional Monday-Friday, in-person 8-hour work day to entirely remote. Because many employees remained remote for over a year – and in some cases are still remote over two years later – it is unreasonable to expect the world of work to return to a pre-pandemic normal. In fact, data has shown (link to previous stories) that employees prefer a hybrid modality moving forward, which will enable them to maintain a sense of flexibility by dividing time between home and the office. Once you have made the decision to return to in-person work, whether it be in a hybrid modality or a different capacity, it is important to gauge how well your office is functioning.
What do we mean by gauging how well your office is functioning? Questions you should ask yourself include: Is your space being used effectively? Is there one day that people are disproportionately working from home? or from the office? Can an area be repurposed in a way that would increase efficiency?
Read on as we tackle the future of work and the ways that you can make sure your office is being properly utilized.
In-Person Work – The Stats
More than two years after COVID-19 was officially declared a pandemic, many organizations have already returned to in-person work at the office, or have plans to do so in the near future.
Before we get into how to effectively measure the efficiency of how space is used once employees return to the office, let's first look at the state of work as a whole.
A CNBC Make It article written by work reporter Megan Smith, entitled, "50% of companies want workers back in office 5 days a week – why experts say this strategy could fail," cites some new research we believe is important to consider. According to Smith's piece, "About 50% of
leaders say their company already requires or is planning to require employees to return to in-person work full-time in the next year, according to new research from Microsoft, which surveyed 31,102 workers around the world between January and February."
Smith goes on to point out an issue we raised in the opening of this post, that employees still want the flexibility they have become accustomed to amid the pandemic. In that spirit, Smith reports, "This number stands in sharp contrast, however, to what employees really want: flexibility. In the same report, 52% of workers said that they are thinking of switching to a full-time remote or hybrid job in 2022."
With that said, a post published by Apollo Technical, an IT recruiting company, entitled, "Statistics on Remote Workers That Will Surprise You (2022)," compiled a range of very informative statistics from numerous companies that provide important insight.
We are sharing an excerpt from Apollo Technical's piece that helps put into perspective the mindset of many workers: "A survey by slack of 9,000 workers in six countries found that 72% prefer a hybrid remote-office model with only 12% preferring to always work in an office setting. They also found that 13% would like to always work from home if given the choice.
PwC conducted a similar survey of 1,200 US office workers and 120 executives in 2020. 73% percent of those executives surveyed found that working remotely has been a success."
Hybrid, Wave of the Future
What you have probably come to understand is that there is a split opinion on the best modality when it comes to the future of work, and many companies have chosen to jump on the hybrid work bandwagon.
If you are looking for a more in-depth view on the subject of hybrid work, please click here because we have researched and written extensively the concept
While a hybrid approach can offer the best of both words for your employees – time in the office and time at home – , it is imperative we remind you of the point we made in the opening, that whatever modality you choose must meet the specific needs of your company because there is no one-size-fits-all solution. That starts with determining how your office is being used when people do come to the office to work in person. Once you have the data and can make an informed decision, you can move to identifying what changes are necessary to implement to ensure existing operations are done more effectively and efficiently.
At this point, enter the increasingly important world of workplace analytics and space utilization.
Measuring Return to Office Solution
Space utilization software is the best tool for determining how and when certain areas within your organization are occupied, because otherwise trying to gauge this information would entail stationing individuals in a given area for an extended period of time to track data by hand. This approach is not feasible because of the personnel it would require to monitor so many different spaces for lengthy periods of time since the best way to determine trends is by constantly monitoring use, not a one-off approach. This is why space utilization software is the most effective means to capture the data and provide you an overview of how and when your space is utilized.
At Hubstar, our technology will allow you to ensure your space is being used effectively and efficiently. The data provided to you from our software can then help inform your decision making about a variety of factors, for example:
· whether or not you need to alter your operations at all,
· should you undertake an office redesign,
· if schedules need to be adjusted based on how and when people are coming into the office, or
· should you change your office footprint by subleasing existing space or renting additional space to better accommodate your needs
How to Use Data
Once you have utilization data, there are many different ways you can use the data to improve operations.
Our technology gives you pro-active insights to inform workplace design, quantified utilization insights help optimize the employee experience and the ability to reduce your portfolio by saving on unnecessary leases.
Hubstar's software comes with a real-time space utilization and workplace analytics dashboard that helps you to quickly understand how your portfolio is used and identifies where and how you can optimize space utilization.
We provide you with the resources so decisions about the future well-being of your organization can be made in a data-driven manner that accounts for all the variables you are dealing with during these uncertain times.
For example, if an office redesign is in your future, our software can help you determine the best way to use your space based on your employees' current behaviors. It can also help you to track any changes for effectiveness once they are made.
In addition to monitoring which spaces are being used effectively, our technology can also help when it comes to implementing a safe return to the office. This is more important than ever as employee health and safety protocols are now a top priority for employees and employers.
You may be asking how is it possible for our technology to help you return safely to the workplace, and that is a great question. Our technology can identify danger zones and bottlenecks, provide real-time utilization visualization on screens, give smarter reports of cleaning and other services you may use and provides the ability to get real-time alerts for management and team leads.
Want to book a meeting and learn more? Click here.